Tommy & Tuppence Beresford
Tommy and Tuppence Beresford feature in both full length novels and a collection of short stories. Within the short stories, 'Partners in Crime' they take over The International Detective Agency and solve a series of mysteries. 
Within the novels the Beresfords are retried from the secret services and are looking to find a new purpose and direction. The novels cover espionage and thriller style mysteries. A full character list from the novels can be found below.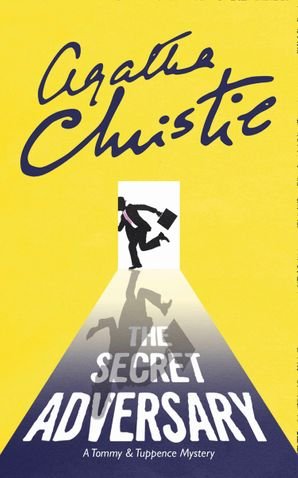 The fist novel in the Tommy and Tuppence series - takig on a case for a 'Mr Carter' the Beresfords are soon embroiled in an international mystery on the hunt for a missing treaty.
With spies and espionage this is a great thriller written by Christie - the 3rd of the 5 Beresford novels to enjoy.
A collection of short stories with Tommy and Tuppence Beresford investigation mysteries. If you're a fan of the Beresford novels or just want to dip your toe in...it's a great collection of mysteries.
A secret message found within an old book? There's a mystery to solve for the Beresfords in this the 5th book in the Tommy and Tuppence series of novels.
In 2015 'Partner's in Crime' was aired as a BBC TV series with David Walliams playing Tommy Beresford and Jessica Raine as Tuppence Beresford. It was a six part series with two stories being split into three episodes as follows:
Episodes 1-3 The Secret Adversary
Episodes 4-6 N or M?
Previously in 1983 there was also a mini TV series:
The Secret Adversary –  Not actually an episode of the series, but a television adaptation preceding the series. The main cast is the same as the later episodes.
The Affair of the Pink Pearl – 

Aired on 

16 October 1983
The House of Lurking Death – 

Aired on 

23 October 1983.
The Sunningdale Mystery – 

Aired on

 30 October 1983.
The Clergyman's Daughter – 

Aired on

 6 November 1983.
Finessing the King – 

Aired on

 27 November 1983.
The Ambassador's Boots – 

Aired on

 4 December 1983.
The Man in the Mist – 

Aired on 

11 December 1983.
The Unbreakable Alibi – 

Aired on

 18 December 1983.
The Case of the Missing Lady – 

Aired on

 1 January 1984.
The Crackler – 

Aired on

 14 January 1984.Aired on
The Novels - Tommy & Tuppence Character List
1922 The Secret Adversary
| | |
| --- | --- |
| Julius P Hersheimer | Jane Fin's millionair cousin |
| Mr Carter | Seniour member of the British government |
| Jane Finn | Missing woman who held important documents |
| Marguerite 'Rita' Vandemeyer | Previously an actress, travelling on board of the Lusitania with Jane Finn |
| Albert | A boy that works in South Adley Mansions and helps the Beresfords |
| Mr Whittington | Member of the gang |
| Boris Ivanovitch/ Count Stepanov | Member of the gang, friends with Rita |
| Mr Kramenin |   |
| Dr Hall |   |
| Sir James Peel Edgerton | King's council and old friend of Mr Carter |
| Mr Brown |   |
| Danvers |   |
1941 N or M?
| | |
| --- | --- |
| Mr Carter |   |
| Captain Grant | British intellegence secret agent who employes Tommy and Tuppence |
| N | German spy |
| M | German spy |
| Mrs Perenna | Owner of the Sans Souci hotel, mother of Sheila |
| Sheila Perenna | Daughter of Mrs Perenna the owner |
| Mrs O'Rourke | Irish woman |
| Major Bletchley |   |
| Mr Von Deinem | German refugee |
| Mr Cayley |   |
| Mrs Cayley |   |
| Miss Sofia Minton |   |
| Mrs Sprot |   |
| Betty | Mrs Sprot's todler daughter |
| Commander Haydock | Retired naval officer |
| Albert Batt | Previous manservant to the Beresfords |
| Deborah Beresford | Daughter of the Beresfords and Derek's twin |
| Derek Beresford | Son of the Beresfords and Deborah's twin |
| Vanda Polonska | Polish refugee |
1968 By The Pricking of my Thumbs
| | |
| --- | --- |
| Miss Packard | Manages the Sunny Ridge nursing home where Ada Fanshaw and Mrs Lancaster are residents |
| Ada Fanshaw | Thomas Beresford's aunt who resides at the Sunny Ridhe nursing home |
| Mrs Lancaster | Elderly lady and resident at the Sunny Ridge nursning home who goes missing  |
| Nurse O'Keefe | Employed at the nursing home Sunny Ridge |
| Albert | The Beresfords help  |
| Alice Perry | Lives with her husband Amos in one half of the house in Sutton Chancellor which is depicted in the painting left by Aunt Ada to the Beresfords  |
| Amos Perry | Married to Alice Perry, living on one half of the myseterious house |
| Vicar | Vicar who speaks with Tuppence when she meats him in the church graveyard |
| Nellie Bligh/  Mrs Johnson | Very active lady in the parish of Sutton Chancellor |
| Mrs Copleigh | Local gossip and owner of the B&B at Sutton Chancellor  |
| Mr Copleigh | Married to Mrs Copleigh |
| Sir Josiah Penn | Retired intellegence officer and Thomas Beresford's superior |
| Robert | Art expert |
| Dr Murray | Local doctor for the residents at Sunny Ridge home |
| Mr Eccles | Solicitor |
| Emma Boscowan | Wife of the man who created the painting which Ada left to the Beresfords |
| Ivor Smith | Young intellegence officer |
| Sir Phillip Starke | Local landowner of Sutton Chancellor |
| Mrs Moody | Resident at Sunny Ridge who knows Mrs Lancaster |
|   |   |
1973 Postern of Fate
Tuppence Beresford
Married to Thomas and also retired from the british intellegence 
Mr Robinson 
International financier
The character appeared in three other novels Cat Among the Pigeons (1959), At Bertram's Hotel (1965), and Postern of Fate (1973).
Albert
Manservant to the Beresfords
Colonel Ephraim Pikeaway 
Retired intelligence officer working to block an unwanted international movement.
Horsham
 
Isaac
 
Mary Jordan
 
The Short Stories - Partner's In Crime (1929) Character List
A Fairy in the Flat/ A Pot of Tea
Prudence ("Tuppence") Beresford
Wife of Thomas Beresford and detective
Thomas Beresford
Husband of Prudence ex intellegence agent now a detective with his wife
Mr. Carter 
Member of the intellegence service
Theodore Blunt
Former manager of the Detective Agency
Albert
Porter for Tuppence and Tommy
Lawrence St. Vincent
Young member of the aristocracy who asks the Beresfords for help
Earl of Cheriton
Lawrence St Vincent's uncle
Janet 
Young woman who works in a hat shop and is reported to have disappeared
The Affair of the Pink Pearl
Prudence ("Tuppence") Beresford
Wife of Thomas Beresford and detective
Thomas Beresford
Husband of Prudence ex intellegence agent now a detective with his wife
Miss Kingston Bruce
Young lady who entreats the help of Tommy and Tuppence in finding a missing pearl
Lawrence St. Vincent 
Man who recommended the Beresfords (Blunts) to Miss Kingston Bruce after they helped him previously 
Colonel Kingston Bruce
Host at whose party the pearl was stolen, married to Lady Laura Barton and father of Miss Kingston Bruce
Lady Laura Barton
Mother of Miss Kingston Bruce and wife of Colonel Kingston Bruce. 
Mr Hamilton Betts
American man staying with the Bruce's
Mrs Hamilton Betts
American lady staying with the Bruce's who loses a pearl from her necklace
Mr Rennie
Young man staying with the Kingston Bruces and is anamoured by their daughter
Elise
Lady Laura's French maid
Inspector Marriot
Detective from Scotland Yard
The Adventure of the Sinister Stranger
General Francis Haviland
Man who Tuppence worked with during the war 
Dr. Charles Bower
Doctor to requests the help of Tommy and Tuppence to stake out his office
Detective Inspector Dymchurch
Detective from Scotland Yard
Prudence ("Tuppence") Beresford
Wife of Thomas Beresford and detective
Thomas Beresford
Husband of Prudence ex intellegence agent now a detective with his wife
Finessing the King/The Gentleman Dressed in Newspaper
Inspector Marriot
Detective from Scotland Yard
Sir Arthur Merivale
Gentleman married to Lady Vere Merivale who is murdered
"Bingo" Hale
Best friend of Sir Arthur Merivale
Lady Vere Merivale
Wife of Sir Arthur merivale and victim
The Case of the Missing Lady
Prudence ("Tuppence") Beresford
Wife of Thomas Beresford and detective
Thomas Beresford
Husband of Prudence ex intellegence agent now a detective with his wife
Gabriel Stavansson
A famous explorer recently returned from an expedition to the North Pole
Honourable Mrs. Hermione Leigh Gordon
Widowed lady who becomes enagaged to Stavensson before he leaves for the North Pole
Lady Susan Clonray
Hermione Leigh Gordon's aunt whom she has been staying with
Dr. Horriston
Doctor at a private nursing home 
Blindman's Buff
Mr. Carter
Employed in the intellegence service and has the title Lord Easthampton, acquaintence of the Beresfords 
Thornley Colton
A blind detective
Duke of Blairgowrie
Introduced as a friend of Captain Harker and reports his daughter as being kidnapped
Captain Harker
Friend of the Duke's
Albert
Young man who asists the Berefords 
Prudence ("Tuppence") Beresford
Wife of Thomas Beresford and detective
Thomas Beresford
Husband of Prudence ex intellegence agent now a detective with his wife
The Man in the Mist
Mervyn Estcourt / Bulger
Friend of Gilda Glen and old aquaintance of the Beresfords
Prudence ("Tuppence") Beresford
Wife of Thomas Beresford and detective
Thomas Beresford
Husband of Prudence ex intellegence agent now a detective with his wife
Gilda Glen
A famous actress
Lord Leconbury
Gentleman Gilda is engaged to
James Reilly
A poet in love with Gilda Glen
Mrs. Honeycott
Owner of a house on Morgan's Avenue
Ellen
Maid at Mrs Honeycott's residence
Policeman
unnamed but who is the long lost husband
Mr. Marvell
Solicitor for James Reilly
The Crackler
Prudence ("Tuppence") Beresford
Wife of Thomas Beresford and detective
Thomas Beresford
Husband of Prudence ex intellegence agent now a detective with his wife
Inspector Marriot
Detective from Scotland Yard
Major Laidlaw
Wealthy man seen in 'racing circles' with cash to burn
Lawrence St. Vincent 
Man who was helped previously by the Beresfords and who is an aquaintance of the Laidlaws
Mrs Marguerite Laidlaw
French lady married to Major Laidlaw
Monsiur Heroulade
Mrs Laidlaw's father
Hank Ryder 
American man who admires Marguerite Laidlaw
Albert
Young man who asists the Berefords 
The Sunningdale Mystery
Prudence ("Tuppence") Beresford
Wife of Thomas Beresford and detective
Thomas Beresford
Husband of Prudence ex intellegence agent now a detective with his wife
Captain Anthony Sessle
Business man and member of the Sunningdale Gold club with his business partner Mr Hollaby
Mr Hollaby
Business man and member of the Sunningdale Gold club with his business partner Captain Sessle
Doris Evans
Young woman identified as being seen with Anthony Sessle on the golf course
Mr Hollaby Junior
Son of Mr Hollaby
The House of Lurking Death
Lois Hargreaves
Rich heiress who comes from her home Thurnly Grange in the country to seek Tommy and Tuppence's help
Lady Radclyffe
Lois' deceased aunt who was herself a widow
Dennis Radclyffe
Nephew of Lady Redclyffe's late husband who lives with Lois at Thurnly Grange
Miss Logan
Elderly former companion to Lady Redclyffe and distant relation of Dennis also living at Thurnly Grange
Mary Chilcott
A school friend of Lois' who lives with her at Thurnly Grance
Esther Quant 
Parlourmaid at Thurnly Grange
Hannah
Elderly maid at Thurnly Grange
Dr. Burton
Local doctor
Edward Logan
Miss Logan's father
Prudence ("Tuppence") Beresford
Wife of Thomas Beresford and detective
Thomas Beresford
Husband of Prudence ex intellegence agent now a detective with his wife
The Unbreakable Alibi
Mr. Montgomery Jones
Wealthy but unintellegent young man in love with Una Drake
Una Drake
Australian girl who sets a challenge for Montgomery Jones
Mr. le Marchant
Friend of Una Drake who dined with her at the Savoy Hotel
Inspector French
Inspector whose methods the Berefords are aware of
 
Flatmate of Una Drake
 
Charwoman
Prudence ("Tuppence") Beresford
Wife of Thomas Beresford and detective
Thomas Beresford
Husband of Prudence ex intellegence agent now a detective with his wife
The Clergyman's Daughter/The Red House
Monica Deane
Young woman seeing help from the Beresfords due to strange events at the Red House they live in
Dr. O'Neill
Member of the Society for Physical Research
Mrs Deane
Monica's invalid mother
Prudence ("Tuppence") Beresford
Wife of Thomas Beresford and detective
Thomas Beresford
Husband of Prudence ex intellegence agent now a detective with his wife
Crockett
Elderly main attending to Monica Dean and her mother
Gardener 
Gardner at the Red House
The Ambassador's Boots
Randolph Wilmott
USA ambassador to the UK
Richards
Valet to Randolph Wilmot 
Senator Ralph Westerham
Man whom Randolph is told accidentally picked up his kitbag
Eileen O'Hara
Lady travelling on the voyage as Randolph Wilmott
Miss Cicely March
Young lady who responds to an advert the Beresfords put out
Albert
Young man who asists the Berefords 
The Man Who Was No. 16
Mr. Carter 
 
Prince Vladiroffsky
 
Marise
A known Russain agent
Mrs. Van Snyder of Detroit
Name of a lady with a room at the Blitz hotel
Prudence ("Tuppence") Beresford
Wife of Thomas Beresford and detective
Thomas Beresford
Husband of Prudence ex intellegence agent now a detective with his wife