Agatha Christie's Miss Marple Novels
Agatha Christie wrote a total of 12 Miss Marple novels as well as two collections of short stories. The first novel to feature Miss Marple was 'The Murder at the Vicarage' published in 1930. The character of Miss Marple was a hit and she wrote 11 further novels with the final one, Sleeping Murder being published in in 1976 despite the fact that Christie actually wrote it along with Curtain; Poirot's Final Case many years earlier. 
Miss Jane Marple is an elderly spinster who has a nose for smelling out evil. Never one to believe anything she is told by anyone until it is proven true, she can get to the bottom of a murder and frequently runs circles around the investigating officers. Being an old friend of Sir Henry Clithering, former head of Scotland Yard so often finds herself embroiled in hunting down murderers. With the ability to play upon her old age, she is often underestimated resulting in suspects giving away more than they intend and although her parallels o old acquaintances and residents of her home St Mary Mead may come across as babbling or relevant, there is always a bite to her allusions!
Although there are fewer Miss Marple novels compared to the Poirot ones, Christie certainly makes up for it with the body counts – most of the Miss Marple novels have more Murders on average than the Poirot ones so for anyone loving a good classic 'who done it' with a select group of suspects each with a murder and an extra murder thrown in for good measure will not be disappointed if they pick up a Miss Marple novel. Agatha Christie at her best!
All the Agatha Christie Miss Marple Novels in Order
The first novel to feature the wonderful Miss Jane Marple - when a murder is committed at the vicarage in Miss Marple's home village of St Mary Mead, this elderly spinster sleuth gets strait on the the case to find the murderer.
When Dolly Bantry finds a dead body in her library, there is only one person she thinks of to call - the one an only Miss Jane Marple, a friend and local residence of St Mary Mead who has a nose for finding out the truth...
The Moving Finger writes; and, having writ, moves on: nor all thy piety nor wit shall lure it back to cancel half a line, nor all thy tears wash out a word of it...poison pen letters become not so harmless when they lead to the suicide of one recipient...but with Marple on the case, could it actually be a case of murder?
The residents of Chipping Cleghorn are excited when the local paper reads "A murder is announced and will take place on Friday, October 29th, at Little Paddocks at 6.30 p.m" - everyone turns up for the fun and games, only it's not quite so fun when it turns out it's not a game...Miss Marple is soon on the case to find out the truth..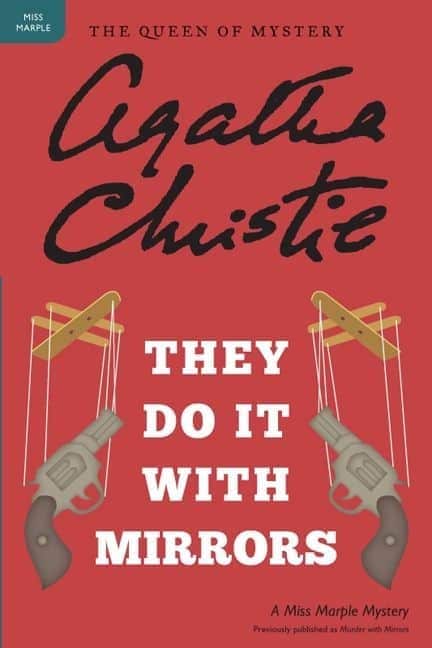 Could Carrie Bradshaw's life really be in danger as her sister suspects? Miss Marple visits and soon agrees that all it not as it should be at the Stonygates rehabilitation centre for wayward boys - and when the dead body of a visitor is found shot - Miss Marple is on the case...
Rex Fortescue dies after drinking a cup of tea at his offices - when grain is found in his pockets the police are stumped. When a second murder takes place it is only Jane Marple who recognises there is in fact plenty of rhyme and reason to the killings so she gets in touch to help...
Also known as 'What Mrs McGillicuddy Saw' - as when Jane Marple's friend looks out at a train passing her own carriage, she actually witnesses a murder! Confiding in Jane, the two set out to find out the truth with the help of the tenacious Lucy Eyelesbarrow...
When a local lady drinks a poisoned cocktail intended for the glamorous and famous Marina Gregg...Miss Marple is soon embroiled in the case to find the culprit. With plenty of suspects to chose from, she has her work cut out for her to get to the bottom of it...
Miss Marple is enjoying the sunshine while on holiday in the Caribbean...when she's asked "Want to see the snapshot of a murderer?" - before she can see it, Major Palgrave hurriedly puts the picture away away... Why? When he is then found dead Miss Marple's suspicions are aroused...
Miss Marple is re-living old memories by staying at the famous 'Bertram's Hotel' renowned for preserving the perfect Edwardian ambience. When the body of one of the maids is found murdered, Jame Marple investigates and finds there is much more to Bertram's Hotel than first appears...
Following on from their meeting in the Caribbean, Mr. Rafiel sets Miss Marple a challenge to investigate a murder that took place many years ago. Trusting in her ability to act as Nemesis - the goddess of retribution, he sets out his instructions in a letter...
Gwenda Reed (née Halliday) has found her perfect home but soon feels there is something strange about it - why is she always seeing things from the past and why does she feel such dread when she climbs the stairs? Fearing she is going mad, she calls in Miss Marple to help and soon they discover that there's more than meets the eye...there's murder...
Which Miss Marple Novel to Read First?
It's obviously a good option to read the first novel to feature Miss Marple as the first Miss Marple novel you read…The Murder at the Vicarage – Christie gives a great introduction to this one of a kind sleuth but you could start with others if you wanted to. In terms of what order to read the Miss Marple novels, I would only really direct people to make sure you don't read 'Nemesis' until after you have read 'A Caribbean Mystery' as there are definite call backs to characters from the first novel and you want to avoid any spoilers. Just as much as you don't want to know who did it, you also don't want to find out who definitely didn't do it as this can spoil some of the fun too. 
What are the best Miss Marple Novels to Read?
Talk to any Agatha Christie fan and you'll probably get each and every Marple novel cited as that person's favourite and in truth there really isn't a bad one among them. I find the Marple novels a lot more consistent than the Poirot ones. Where as Agatha Christie decidedly fell out of love with Poirot, she always wrote favourably of Marple and consistently produced mysteries of a high standard. If you like a lot of murders then 'A Murder is Announced', 'They do it with Mirrors', '4.50 from Paddington' and 'A Caribbean Mystery' are excellent choices. My personal favourites are '4.50 From Paddington' and 'A Caribbean Mystery' and 'The Moving Finger'. Least favourite on the list for me is 'Nemesis' and I'm not a huge fan of the book 'At Bertram's Hotel' although I do really like to TV adaptation for the Marple series starring Geraldine McEwin as Marple alongside Martine McCutcheon and Stephen Mangan. But every Agatha Christie fan is different. Just as everyone has their own favourite actress who played the enigmatic Miss Marple, everyone has their own favourite book, character and TV episode. My one recommendation would be to just start reading them and enjoy!
Miss Marple Short Story Collections
Along with the 12 Marple novels, Agatha Christie also produced two collections of short stories, 'The Thirteen Problems' and Miss Marple's Final Cases'. These collections contain the complete Marple short stories and are great for a coffee break read or if listening to them on audiobook, a commute to work.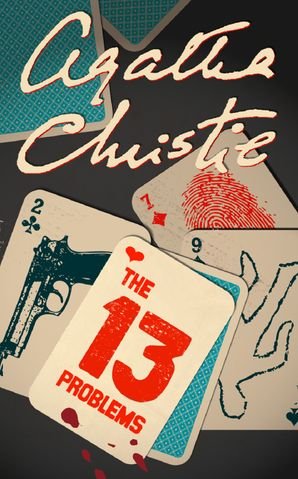 Miss Marple is joined by some friends for what they call 'The Tuesday Night Club' where members gives the details of an - as yet - unsolved mystery. As always, the one person you can count on to solve them is in the club and Miss Marple sets about explaining the solution to each remarkable tale.
A great collection of short stories including six Miss Marple mysteries as well as two bonus mysteries 'The Dress Maker's Doll' and 'In a Glass Darkly'. Plenty to enjoy for Marple fans.