Sleeping Murder by Agatha Christie was filmed as part of the ITV feature length episodes and although the final book in the Marple collection, it actually features early on in Season 2 episode 1 starring Geraldine McEwan as Miss Marple. 
In 2001 June Whitfield voiced Miss Marple in the radio edition Audiobook and a more faithful TV adatpation compared to the ITV version was also filmed by the BBC as part of the Joan Hickson series in 1987 as episode 6.  
Sleeping Murder Character List
| | |
| --- | --- |
| Alison Danby | Gwenda's Aunt who brought her up in New Zealand |
| Beatrice | Eleanor Fane's maid |
| Colonel Melrose | Mentioned as he had previously pointed Inspector Primer out to Miss Marple |
| Detective Inspector Primer | Investigating officer |
| Dr Haydock | Miss Marple's doctor |
| Dr James Kennedy | Older half brother of Helen, a retired doctor |
| Dr Penrose | Worked at the nursing home where Major Halliday was committed to and later died at |
| Edith Pagett | Previous cook at the house in Dillmouth, St Catherine |
| Esther | Cook at Gossingdon Hall for the Bantry's  |
| Evelyn  | Miss Marple's Maid |
| Giles Reed | Gwenda's husband  |
| Gwenda Halliday Reed | Married to Giles and recently moved to England from New Zealand. Living at Hillside, previously called St Catherine |
| Helen Spenlove Halliday nee Kennedy | Major Kelvin's second wife and half-sister of Dr Kennedy |
| | |
| --- | --- |
| Inspector Last | Policeman  |
| Jackie Afflick | Coach tour owner married to Dorothy, a one-time friend of Helen Kennedy |
| Janet Erskine | Richard Erskine's wife |
| Joan West | Raymond's wife, a painter, cousin of Giles Reed |
| Leonie | Nurse at the Halliday household from Switzerland  |
| Lily Abbott Kimble | Parlourmaid at the Halliday household |
| Major Kelvin Halliday | Gwenda's father, now deceased, his first wife was Megan (Gwenda's mother) later married to Helen after Megan died |
| Manning | Old gardener at the Halliday household |
| Megan Halliday | The first wife of Major Halliday and Gwenda's mother |
| Mr Penderley  | House agent at Galbraith & Penderley |
| Mrs Cocker | Cook for Gwenda and Giles |
| Raymond West | Miss Marple's nephew, an author |
| Richard Erskine | A married man who fell in love with Helen after meeting her on a ship to India |
| Walter Fane | Jilted fiance of Helen who later became a solicitor in Dillmouth  |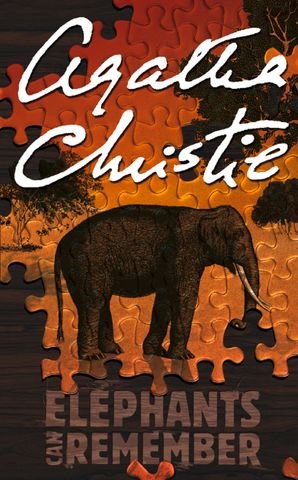 Join Ariadne Oliver and Poirot in their last novel together as they try to discover the truth of a killing 13 years earlier - the question they must answer for Ariadne's god-daughter is, did her mother kill her father or did her father kill her mother...
Also known as 'What Mrs McGillicuddy Saw' - as when Jane Marple's friend looks out at a train passing her own carriage, she actually witnesses a murder! Confiding in Jane, the two set out to find out the truth with the help of the tenacious Lucy Eyelesbarrow...