4.50 from Paddington by Agatha Christie was filmed as part of the ITV feature length episodes and is Season 3 episode 1 starring Geraldine McEwan as Miss Marple. It was previously filmed as episode 9 of the Joan Hickson series in 1987 and was aired appropriately on Christmas Day. 
A French adaptation has also been filmed as part of 'Le crime est notre affaire' in 2008 and a Japanese animated series staring Kaoru Yachigusa as the voice of Miss Marple in 2004.
Finally, June Whitfield voiced Miss Marple in the Radio 4 dramatised version which can be bought on audiobook here.
4.50 from Paddington Character List
| | |
| --- | --- |
| Alexander Eastley | Bryan's young son |
| Alfred Crackenthorpe | Eldest son of Luther  |
| Anna Stravinska | Ballet dancer and victim |
| Armand Dessin | French Inspector who investigates in Paris |
| Bryan Eastley | Widowed son in law to Luther whose wife M |
| Cedric Crackenthorpe | Youngest son of Luther, artist living in the Mediterranean |
| Chick Evans | An associate of Dicky Rogers |
| Constable Sanders | Police constable working with Inspector Bacon |
| Darwin | Manservant/ valet to Harold Crackenthorpe |
| David West | Railway worker who helps Miss Marple with the timetables. He is the son of Raymond West and therefore Miss Marples grand-nephew |
| David West | Raymond West's second son |
| Detective Inspector Dermot Craddock | Investigating officer and godson of Sir Henry Clithering, Miss Marple's friend |
| Detective Sergeant Wetherall | Sent by Inspector Craddock to find out about Martine  |
| Dicky Rogers | Conman known to the police and invovled with Alfred Crackenthorpe |
| Dorothy Cartwright | Acquaintance of Miss Marple – her reliability is compared to Elspeth McGillicuddy's |
| Dr Haydock | Miss Marple's doctor |
| Dr Morris | Previous partner to Dr Quimper who attended the Crackenthorpe family, now retired |
| Dr Quimper | Family doctor to the Crackenthorpe's and in love with Emma |
| Edith "Edie" Eastley | Deceased wife of Bryan and Alexander's mother, she was one of Luther's children |
| Edmund Crackenthorpe | Deceased son of Luther, killed in the war |
| Edwards | Local gardener in St Mary Mead |
| Elspeth McGillicuddy | Friend of Miss Marple and witness to the murder as the two trains passed |
| Emma Crackenthorpe | Only surviving spinster daugther of Luther and in love with Dr Quimper |
| Florence Hill | Old maid of Miss Marple's whom she stays with |
| Geraldine Webb | Woman Miss Marple knew who married later in life |
| Griselda Clement | Married to the vicar of St Mary Mead |
| Harold Crackenthorpe | Another son of Luther and married to  |
| Henry Crackenthorpe | Luther Crackenthorpe's deceased brother |
| Hillman | Gardener at Rutherford hall for the Crackenthorpe's |
| Inspector Bacon | Police inspector who comes to investigate when the body of a woman is found |
| James Stoddart-West | Young school friend, and secret cousin of Alexander, son of Lady Stoddart-West  |
| | |
| --- | --- |
| Johnstone | Brackhampton Police surgeon   |
| Josiah Crackenthorpe | Father of Luther and Henry, the founder of the Crackenthorpe business |
| Lady Adington | In the church restoration fund committee with Emma Crackenthorpe and Miss Bartlett |
| Lady Alice Crackenthorpe | Married to Harold Crackenthorpe |
| Lady Martine Stoddart-West | James' mother |
| Lady Stoddart-West | Mother of James and at one time engaged to Edmund Crackenthorpe before he was killed in the war. |
| Leonard Clement | Griselda's son |
| Louisa Felby | Lady ate a bad Cornish pasty before visiting Miss Marple |
| Lucy Eyelesbarrow | An acquaintance of Miss Marple who is employed to assist with the finding of the body at Rutherford Hall, she takes a role working for the Crackenthorpes |
| Luther Crackenthorpe | The owner of Rutherford Hall and widowed father of Emma, Cedric, Harold, and Alfred |
| Madame Joliet | Director of the Ballet Maritski in Paris |
| Miss Bartlett | In the church restoration fund committee with Emma Crackenthorpe and Lady Adington |
| Miss Ellis | Secretary to Harold Crackenthorpe |
| Mr Eade | Bank manager at St Mary Mead used as an example by Miss Marple |
| Mr Jenkins | Used as an example by Miss Marple, he worked at the garage in St Mary Mead |
| Mr Wells | Solicitor at St Mary Mead |
| Mr Wimborne | London lawyer for the Crackenthorpe family |
| Mrs Brierly | Lady who Miss Marple knew that tried to hide her nervous breakdown and stay at a hospital from her children  |
| Mrs Hart | Char-woman at Rutherford hall |
| Mrs Henry Crackenthorpe | Wife of Henry Crackenthorpe, also deceased |
| Mrs Josh Simpkins | Lady who has twins delivered by Doctor Quimper |
| Mrs Josiah Crackenthorpe | Mother of Luther and Henry |
| Mrs Kidder | Works at Rutherford Hall for the Crakenthorpe's as their 'daily woman' |
| Raymond West | Miss Marple's nephew, an author |
| Ronnie Wells | Mr Wells' son |
| Sergeant Frank Cornish | Initial policeman to whom Mrs McGillicurry and Miss Marple report the murder |
| Sergeant Leakie | The policeman who observes Chick Evans and Dicky Rogers' activities |
| Sir Henry Clithering | The former head of Scotland Yard and friend of Miss Marple |
| Sir Robert Stoddart-West | James' father, husband of Martine  |
| Thomas Eade | Son of Mr Eade |
| William Baker | Works at the Brackhampton train station as a ticket collector |
Gwenda Reed (née Halliday) has found her perfect home but soon feels there is something strange about it - why is she always seeing things from the past and why does she feel such dread when she climbs the stairs? Fearing she is going mad, she calls in Miss Marple to help and soon they discover that there's more than meets the eye...there's murder...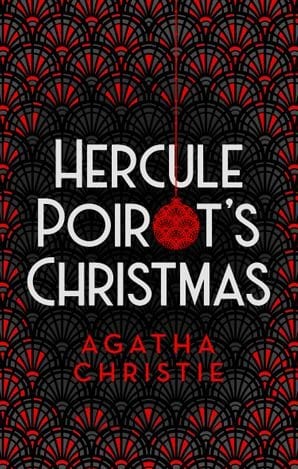 There's no book we reach for more at Christmas - this is the perfect seasonal book to read throughout the festive season. A closed circle novel set in a country mansion - classic Christie at her best!